TMA Legislative News Hotline
Friday, April 15, 2011
TMA IN ACTION
Major chiro win for TMA:
Thanks to the hundreds of physicians, medical students, and TMA Alliance members who contacted their senators this week and aggressive advocacy by TMA's lobby team, the association won a major scope battle.
It started on Monday when the Senate Business and Commerce Committee approved legislation that essentially gave the Texas Board of Chiropractic Examiners carte blanche authority to do whatever it wants — by rulemaking — without having to worry about legal action from another state health licensure agency. Working with the bill author, however, by Friday TMA was able to remove all of the objectionable provisions.
As approved by the committee Monday, Senate Bill 1001 by Sen. John Carona (R-Dallas) would have prevented the Texas Medical Board from taking legal action to stop an individual chiropractor from violating the Medical Practice Act if the chiropractic board said the chiropractor was practicing within his or her scope.
The bill also would have circumvented current insurance code provisions concerning nondiscrimination against nonphysicians, which would allow more than 30 nonphysician health care groups to get paid for more services and also would increase utilization. And lastly, the bill would have allowed a number of these groups to create partnerships and other professional structures with physicians, circumventing current law that sets out how these organizations are established.
Under the compromise bill agreed to and passed by the Senate on Thursday, the measure requires fair payment and nondiscrimination in payment by health plans for services that chiropractors are authorized to provide. It also allows chiropractors and physicians to establish business relationships as long as the physician affirmatively reports and updates those relationships to TMB.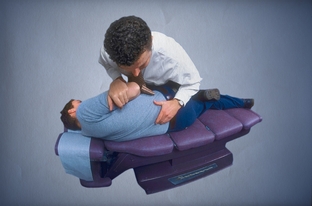 The
Texas Tribune
reported
, "After a fierce fight, the state's leading physician groups won a change in legislation backed predominantly by Texas chiropractors that could have prevented one health care licensing agency from challenging the ruling of another in court. The bill reached final passage on the Senate floor today after addition of an amendment added by Sen. John Carona, R-Dallas, who authored the bill, reflecting a compromise between the Texas Medical Association and the Texas Chiropractic Association."
Its House companion bill — House Bill 3441 by Rep. Warren Chisum (R-Pampa) — was heard in the House Licensing and Administrative Procedures Committee on Monday. Sara Austin, MD, an Austin neurologist and member of TMA's Council on Legislation,
testified against
the measure, which was left pending in committee.
TMA may be calling on you again next week, when the House Public Health Committee takes up a whole host of scope bills by advanced practices nurses and other health care practitioners. Stay tuned.
WHAT YOU CAN DO
Needed in Austin: patient advocates.
Join hundreds of your colleagues and make a difference in legislation affecting you and your patients. Sign up now to attend First Tuesdays at the Capitol on May 3.
Register today
.
TMA's Message:
Want to know where TMA stands on issues before House and Senate committees this session? All the
testimonies
presented by TMA leaders are on the TMA website. You can also find
letters
TMA has sent to our state leaders.
WHAT WE'RE READING
Doctors, Chiropractors Square Off Over Bill
(
Texas Tribune
)

Many Texas schoolchildren fail fitness evaluation
(
Austin-American Statesman
)

Court unlikely to hear Obama healthcare law now
(
Reuters
)

Obama lifts 1099 tax reporting burden
(
The Hill
)