TMA Legislative News Hotline
Thursday, May 26, 2011
---
BUDGET WATCH
Budget negotiators passed their final report for House Bill 1, the state's next two-year budget, this morning. The budget approved by conferees cuts spending by $15 billion. The portion of the budget that Texas is responsible for totals $80.4 billion. The budget now must be approved by the House and Senate. However, for this budget to work, state leaders still need to resolve two critical pieces. They need to agree on how to alter the current school financing system to account for a $4 billion cut to public education. And they need pass Senate Bill 1811 by Sen. Steve Ogden (R-Bryan) that creates "nontax revenue" to help cover spending in the budget. Lawmakers need around $3.5 billion. One item SB 1811 conferees are hammering out is whether to approve a statewide smoking ban. The House added that provision to SB 1811 last Friday. A smoking ban would save $31 million in Texas Medicaid alone.
Lawmakers also made headway yesterday in solving the $4 billion deficit in the current state budget. Two major bills received final approval. One was HB 275 by Rep. Jim Pitts (R-Waxahachie), which would allow the state to use $3.2 billion from the Rainy Day Fund. This includes $81 million more than what the House originally approved. The extra money would pay for fighting West Texas wild fires. They also passed HB 4 by Representative Pitts, which authorizes the state to use these funds to help balance the current budget. The bills are headed to Gov. Rick Perry's desk for his signature.
BILL UPDATE
Yesterday was the last day for the Senate to consider bills on the Senate Intent Calendar. The Texas House only has until midnight tonight to print and distribute Senate amendments. Amended bills then need approval by the original chamber. Those that are not approved then are assigned to a conference committee to work out differences between the House and Senate. The House approved these two bills yesterday:
Health care collaborative:
The Texas House gave final approved to
SB 8
by Sen. Jane Nelson (R-Flower Mound) last night. SB 8 would establish a statewide plan for improving quality and increasing efficiency through performance-based measures, test collaborative models between physicians and other health care providers, and require public reporting of preventable readmissions and complications. TMA, the Texas Association of Health Plans, and the Texas Hospital Association have negotiated how the new paradigm in the bill would play out in the real world. As a result of these negotiations, three important provisions have been added to SB 8 to protect physicians in a collaborative arrangement:
Physicians would have an equal say and vote in a collaborative arrangement's governing board.

They also would have due process protections and the ability to participate in more than one collaborative arrangement in their community.

The bill also protects Texas' ban on the corporate practice of medicine.
House members added several amendments to the bill last night. One included language from Rep. Lois Kolkhorst (R-Brenham) to allow Texas to join a multistate health care compact to help fund and administer Medicaid. Rep. Warren Chisum (R-Pampa) attached an amendment that would allow chiropractors to bill insurance companies for their services. And Rep. Jodie Laubenberg (R-Parker) made a change to an amendment that was added by Rep. John Zerwas, MD (R-Simonton), Tuesday. Representative Zerwas added language that would require hospitals and most other health care facilities to have vaccination policies in place to encourage their employees to get vaccinated against preventable but infectious diseases. Representative Laubenberg's amendment would require facilities to exempt health care workers from vaccinations if they object for reasons of religion or conscience.
Food safety:
The House also approved SB 81 by Senator Nelson, which would expand the number of food manufacturers, food wholesalers, and warehouse operators that must have a license from the Department State Health Services (DSHS). Representative Kolkhorst amended the bill to allow the sale of food and baked goods for producers in private homes with annual incomes less than $50,000. Her amendment also would require these producers to include their name and a statement that the food is not inspected. Rep. Eddie Rodriguez (D-Austin) added another amendment that would allow DSHS or a local health department to issue a temporary food establishment permit for sellers at farmers markets.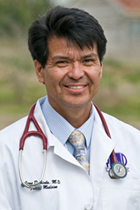 Jorge Duchicela, MD
PHYSICIAN OF THE DAY
The physician of the day at the capitol is Jorge Duchicela, MD, of Weimar. Dr. Duchicela has practiced family medicine for 23 years. He graduated from the University of Wisconsin Medical School in 1984. Dr. Duchicela is a member of TMA and the Colorado-Fayette County Medical Society.
WHAT YOU CAN DO
Remember Eight, at Eight, on the Eighth:
Want to learn how the 2011 legislative session affects you and your patients? Then remember these three numbers: 8, 8, and 8. On June 8 at 8 pm, you can learn what actions legislators took on medicine's top eight issues.
TMA President C. Bruce Malone, MD, will call you at your home telephone number and invite you to stay on the line for TMA's Tele-2011 Legislative Update. For the next 45 minutes, Dr. Malone and members of TMA's Council on Legislation and TMA's lobby team will discuss these eight issues:
1. 2012-13 state budget,
2. Employment protections,
3. Texas Medical Board reform,
4. Scope of practice expansions,
5. Health system reform,
6. Workforce,
7. Public health, and
8. Health insurance reform.
You may ask questions after each topic and use your phone to participate in a survey. And, the best part: You will earn 1
AMA PRA Category 1 Credit
™ for your time (providing you stay on the line for the entire program).
If you prefer that we call you on your cell or office telephone, please contact the TMA Knowledge Center by telephone at (800) 880-7955 or by
email
by Friday, June 3, and let us know. We hope to talk to you on June 8.
You also can learn more about the
2011 legislative session
on TMA's website.
TMA's Message:
Want to know where TMA stands on issues before House and Senate committees this session? All the
testimonies
presented by TMA leaders are on the TMA website. You can also find
letters
TMA has sent to our state leaders.
Read
Action
:
Every two weeks, TMA publishes a web edition of
Action
.
Action
presents important and timely information about legal, economic, regulatory, and legislative affairs that Texas physicians need to know. Here is the
May 18 edition
.
WHAT WE'RE READING
Bill restores some state funding for med school
(
El Paso Times
)

Kolkhorst Keeps Health Care Compact Bill Alive
(
Texas Tribune
)

Kolkhorst Holding Nelson's Health Bill Hostage
(
Texas Tribune
)
Perry: 'I can't say I'm not tempted' to run for president
(Austin American-Statesman)